There's a phrase that is used often in Panama, TIP.
TIP stands for "This Is Panama!"    Anytime things don't go as planned, you'll hear people says it's a TIP!
A "TIP" is exactly what happened on Saturday when we had our weekly "Expats in Panama" conference call to interview Phil and Gloria who live next to the beach in Playa Uverito near Las Tablas. (See their views and some of Phil's artwork in the photo to the right)   On Saturday they had a big storm then lost their electricity.  If you don't have electricity in Panama you also lose your internet connection on your computer.  So, they were not able to call in for the conference call. TIP!
Instead, I switched gears real fast and turned the call, with 263 people on the line, into a Q & A Conference Call.  Listen to the replay below.
I've rescheduled Phil and Gloria for June 6th at 5pm Central.
On Saturday, May 30th, I'll interview a man who has lived in Panama City for about 16 years.  The call starts at 5pm Central.
It's a big decision to relocate to Panama.  We know you have SO MANY questions and that could never be answered during a one hour conference call.  The two best ways to get answers to ALL your questions, even the questions you don't know that you need to ask, are with our new online Complete Panama Relocation Guide or a 6-day 7-night all-inclusive Panama Relocation Tour.  We've been helping people relocate to Panama since 2010 and have become the Retire in Panama Experts.  We have the experience you can trust and need when making a decision to relocate to Panama.
Unfortunately the Panama Relocation Tours are sold out through May 2021 so the best thing you can do to learn about relocating to Panama is get our new online Complete Panama Relocation Guide.  The Guide has all the information that you'd learn on a Panama Relocation Tour to make your relocate and transition to living in Panama easy.   The Guide even includes our recommendations for reliable immigration lawyers, honest real estate agents/property managers, where to buy health insurance, how to get your pets in to Panama, how to buy a car and much much more. The Guide will definitely help you avoid costly mistakes.   Plus The Guide comes with our ongoing support to answer your questions and help you relocate to Panama.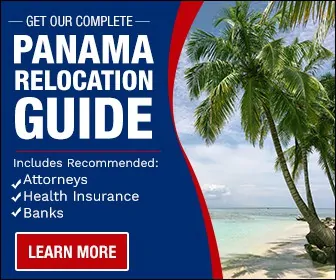 After reviewing all the information in The Guide, we still recommend that you visit Panama before you make a final decision to relocate to Panama. The Guide contains details about the best places to live including the pros and cons of each to help you decide which area is best for you.  As much as I love living in Panama, I know it's not right for everyone.
This is what Christopher had to say about The Complete Panama Relocation Guide and the support he has received:  " I am more than pleased with your Guide. I can hardly stop reading it! And you do have a fantastic company with great family members running it! Thank you for all your help up to this point and I'm sure it's just the beginning!"
Vee wrote, "Jackie and team deliver accurate, current information in a well-organized manner. I now have the information that I need to make a decision on moving to Panama. But don't take my word for it – go see for yourself! Ciao!"