Learn How to Move to Panama and Live for Less in Paradise
Panama Relocation Tours offers an EASY ONLINE solution for those who want to relocate to Panama
but can't join us on a tour.
Maybe you need to move now but our tours are already SOLD OUT? Maybe our tour dates don't line up with your vacation days?
Or maybe a group tour just isn't your thing! You would prefer to explore Panama on your own!
Maybe our tours are completely outside of your budget. You can afford to move to Panama or come on a tour – but not both!
We've heard from hundreds of people in these situations. In the past, we always turned them away. Our information – our years of experience – was previously shared exclusively with our tour guests.
We're excited to announce we have a solution to these problems! With the Online Complete Panama Relocation Guide, we share all the information you need for making a smooth move to Panama.
---
INTRODUCING…
The Complete Panama Relocation Guide
Learn how to make the move to Panama
with total confidence.
---
Get access to our complete directory of trusted contacts in Panama
Since 2010, we've helped thousands of people have a smooth move to Panama. We've seen the good, the bad, and the ugly when it comes to lawyers, real estate agents, and other professionals.
For example: We've been contacted by people who were overpaying by thousands of dollars for a residency visa, who paid double for health insurance, and who were taken advantage of in real estate transactions.
Skip the headaches, the wasted time, and the wasted money by utilizing our network of trusted contacts – including:
RECOMMENDED LAWYERS
Choosing the right lawyer is critical for getting a residency visa for a fair price and in a reasonable amount of time. You don't want to get this wrong!
AFFORDABLE HEALTH INSURANCE COMPANIES
Don't use a broker! Work directly with our recommended insurance companies and save 40% to 50%.
HONEST REAL ESTATE COMPANIES
Work with someone you can trust to help you find the perfect home to rent or buy.
RELIABLE HEALTHCARE PROVIDERS
Get our list of English speaking healthcare providers.
One of the reasons pricing can vary wildly for these services is that many of these types of providers have to pay kickbacks and commissions to magazine publishers and other tour operators. Other international relocation "experts" may steer you toward whichever provider will pay them the most commission.
We never accept kickbacks, commissions, or any form of compensation from the providers we recommend. Those savings are passed on to you!
Our directory of recommended contacts contains only the most reliable and most affordable providers we know of. They can charge you less since they aren't paying us a commission.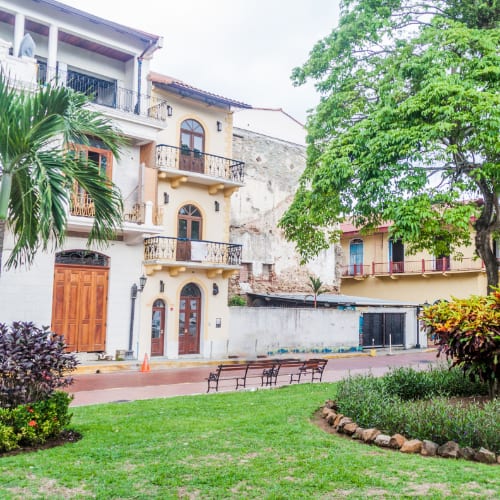 With Our Complete Panama Relocation Guide
You'll Learn…
Why Panama is the ideal place to relocate to, especially for retirees
Exclusive immigration attorney contacts with special pricing
The best places to live in Panama – based on your lifestyle preference
Get our trusted property manager and real estate agent contacts throughout Panama
How to Get Your Pets to Panama – the most affordable way with the least stress
How to save 40-50% on health insurance in Panama
Tips for finding a rental property in Panama & what to watch out for
Buying real estate in Panama and how to get financing
How to buy a car in Panama & how to use public transportation
How to get mail in Panama, including Amazon orders
International mover contacts for household goods and cars
The best cell phone company to use in Panama and essential apps for expats
Bi-lingual and international schools available throughout Panama
Plus much more…
The Complete Panama Relocation Guide will take away all the guesswork and confusion about relocating to or retiring in Panama.
It's your road map to a smooth and easy transition to
living in Panama.
---
Who is this Guide For?
---
Before purchasing the Online Guide, read the license agreement which includes a non-compete and non-disclosure agreement. You will be required to agree to the license agreement.
Get the Online Guide Now
$595
Single Payment
Lifetime Access
Our complete directory of recommended providers
All of our tips & tricks for a smooth move to Panama
Kept up-to-date
What Our Customers Have Said
"Now we feel like we're very equipped to make this move and confident to do it….I call it my Panama Bible. And I will use that over and over. Anything I get ready to do I'm going through my bible first to make sure that I have the information."
Bob McGuire
Chicago, Illinois
"The amount of information we've learned has been incredible."
"We were 12 weeks in and we had our pensionado visas. We know people that are taking two and a half years to be able to get it and still haven't gotten it."
"I love all the information she gives. It's the good and the bad not just sugar coating."
Join our Community
When you purchase the Panama Relocation Guide you'll receive access to our private Panama Relocation Tours Community Facebook group.
This exclusive community with over 4,000 members is the place to share your thoughts about all things Panama and get in touch with other Panama Relocation Tours customers, including many who already live in Panama. It's perfect for learning even more tips and tricks for moving to or living in Panama.
Hire a Local Guide
Get access to our network of trusted, private tour guides throughout Panama.* These are independent tour guides who can be hired to help you explore the city they live in.
*Currently available in the Azuero peninsula, Coronado, Boquete, David, El Valle, Volcan, and Panama City. Private tours are provided by independent contractors, not Panama Relocation Tours.
Group Tour Coupon
You'll also receive a coupon code for $200 off a Panama Relocation Tour.**
**Valid for group tours only. Not valid for private tours. Subject to tour availability. Redeem the coupon within one year of purchasing the Guide to receive $200 off a tour. To get the discount you only have to make a reservation within 1 year. Your actual tour can be over 1 year away.
---
We've helped thousands of people move to Panama
Since 2010, we've had thousands of guests come on our 6-day all-inclusive Panama Relocation Tours. We've received hundreds of 5-star reviews on Facebook, TripAdvisor, YouTube, and our website. We have the experience you can trust and need!
We know exactly what it takes to make moving to Panama as stress-free as possible.
Why Move to Panama?
Panama is much more affordable than North America or Europe. Relocating to Panama could make it possible for you to retire early and retire with a quality lifestyle without sacrificing.
Panama is a small country with only 4 million people that is less than a 2.5-hour flight to Miami. There are 1,500 miles of coastline and beautiful mountain vistas through the middle of the country.
You can pick your ideal temperature based on elevation.
Because Panama is only 9 degrees from the equator, the temperature is consistent all year.
It's about 90 degrees (+/- 5) along the coast. The temperature drops 4 degrees for every 1,000 feet increase in elevation. For example, in the mountains outside of Boquete – at 4,600 feet – daytime temperatures are in the mid-70s all year! You don't need an air conditioner or heater so electric bills are usually less than $20 per month.
Health care is excellent and very affordable
You can see a doctor in his private office for $12 or go to a public hospital to see a well-trained doctor for only $2.
Panama has very affordable health insurance too! The cost of health insurance at private hospitals is approximately your age plus $40. So if you're 55 years old, you'd pay approximately $95 a month. If you're 65, your cost will be $105 per month. There are no age restrictions for this health insurance. If you have pre-existing conditions, they may be excluded for the first year or two but covered after that. You can also use public hospitals even if you have pre-existing conditions. International health insurance is available too.
Fast and easy residency visa
If you have at least $1,000 a month in lifetime income, you qualify for Panama's famous Pensionado Visa which entitles you to discounts on just about everything including 25% off airfare to anywhere in the world, 20% off at restaurants, 50% off at movie theaters, and more. The Pensionado Visa is the most affordable visa too.

If you don't have a pension, other visa options are available too though some will require an investment in real estate.
We really encourage you to rent when you first move to Panama. Many rentals come completely furnished and include all utilities too. This makes it possible to control your monthly cost of living with no surprises. Recently, during a Panama Relocation Tour, we saw a fully furnished 3-bedroom house facing the ocean for only $550 a month and a two bedroom fully furnished house in the mountains for $500 a month. What is fully furnished? It comes with pots, pans, dishes, silverware, coffee pot, sheets, towels, microwave, TV, etc – everything you need so you only need to bring your clothes!
Panamanians are super friendly. In some areas of Panama English is widely spoken. But in some areas, it is not. But at least you have the choice to live in a town where English is widely spoken.
Panama has the highest wages in all of Latin America. According to worldbank.org, the average wage in Panama is $24,500. This means there is a growing middle class. Unemployment is very low, which also keeps crime low.
Panama's economy is strong, with very little debt. And their democratic political system is stable.
---
These are all good reasons to move to Panama!
---
What People Are Saying About Jackie
"Jackie.. I refer to her now..I've met a lot of amazing people in my nearly 71 years and I tell you what she is at the top of the list…This lady..talk about giving back. I refer to her now, with her permission, as wonder woman."
"Jackie has a passion for helping people move to Panama."
"I've never seen so much integrity in one person in my entire life experience. Really Jackie is unbelievable when it comes to integrity."
"Jackie and her people are the best authority on "how to" in Panama. Her online guide saved us many thousands of dollars in the move and continues to be the source for the best information."
Frequently Asked Questions
Everything is provided online. You get instant access to a members-only area of our website immediately after your purchase. Log in anytime using your computer, phone, or tablet.
No! This is not a book. The Guide is a members-only area of our website. It consists of mostly text articles with a handful of videos. We have plans to add more videos over time.
When you buy the guide, you get invited to our private Facebook Community- where you can ask questions and get answers from us and other community members in Panama!
You get lifetime access. You can access The Guide as often as you'd like to for as long as you like. The only way to lose access is if you violate the license agreement.
Absolutely! We update The Guide as needed when information changes. You will always have the most up-to-date information since you access it on our website.  We will send you an email when changes are made to the Online Guide.
All sales are final. We do not offer refunds. This product is for people who are seriously considering or planning a move to Panama.
Get the Online Guide Now
$595
Single Payment
Lifetime Access
Our complete directory of recommended providers
All of our tips & tricks for a smooth move to Panama
Kept up-to-date