Tour Price   |   Tour Itinerary   |   Tour Dates   |   Book a Tour
An Amazing Adventure Is Waiting For You!
Leave All Your Worries Behind…
Let Us Take Care Of Everything For You!
Experience You Can Trust SINCE 2010! We are The
Panama Relocation Experts!
Our 6-day, 7-night ALL-INCLUSIVE Panama Relocation Tour rolling seminar will introduce you to the affordable and wonderful lifestyle available when you retire in Panama. You'll pay one flat fee for the rolling seminar, which includes all ground transportation, all hotels, all meals between check-in and check-out day, and a domestic flight back to Panama City PLUS all the information you need to relocate to Panama the easy way. You'll learn all the things you need to know, like getting a Visa, finding a rental, where to get affordable health insurance, and how to get your pets to Panama but you'll also learn about the cultural differences in Panama. We've been doing Panama Relocation Tours rolling seminars since 2010 and have hundreds of 5-star reviews. We're the Panama Relocation Experts!
Learn What Your Life Could Be Like When You Retire in Panama
This is NOT a real estate buying tour. There is no agenda to "sell" you anything. Our only goal is to introduce you to the Panamanian way of life and give you all the information you need to make a smooth retirement in Panama. You will get information about and see some rentals just so you can see what's available at various prices. In fact, if you do move to Panama, we strongly advise that you do not buy right away, it's better to rent for at least 6-12 months before you make a buying decision.
During the Panama Relocation Tour, we'll visit local shops and markets to discover the BETTER and MORE AFFORDABLE way to live. You'll get to see first hand what's available in Panama and what the prices are like. Imagine dinner for two for less than $10 including drinks!
You'll Discover Why So Many People Are Relocating To Panama!
The rolling seminar will take you from large metropolitan areas to resort beach areas with every amenity and luxury you'd ever need, and funky beach areas with a laid-back atmosphere. You'll also visit popular highland towns where thousands of expats live, and rural areas teeming with opportunity. You'll learn the pros and cons of each area we visit and get details about the price of rentals too.
You will see for yourself how the Panama health care system works, how you can get health insurance for as little as $105 per month if you are 65, and where prescription medication can cost far less than in the US or Canada. On the February 2019 rolling seminar, a tour client was in the emergency room for high blood pressure. Their total bill was only $4.50! You'll learn the secret to getting a 20% discount on all medications. Many drugs can be purchased without a prescription. Bring a list of medications you currently take to see what they will cost in Panama. International health insurance is also available which will cover you in Panama, your home country, and anywhere else in the world. You'll be shocked at how affordable international health insurance is in Panama.
Everyone who has been on a Panama Relocation Tours rolling seminar says the highlight is the opportunity to visit with Panamanians and expats who live in Panama. In addition to spending 6 days with your expat seminar instructors, you'll be spending 6 days with our Panamanian driver who will share his insights about how to be a "good expat" who is well respected in Panama. Every day you'll have lunch and/or dinner with expats. You'll have plenty of time to ask questions and get answers from people who have already moved to Panama. You'll learn about the rental prices and the pros and cons of each area we visit which will help you find the place in Panama that is perfect for you!
You will meet with a reputable and affordable Panamanian attorney so you can learn about the various Visa options including the Pensionado Visa and Friendly Nations Visa. Learn how you can get big discounts on everyday purchases. Plus you'll learn about other visa programs if you're not retired. Our attorney will answer your questions about buying real estate or setting up a business, too. It's a lot easier than you think!
You'll learn why it is a HUGE mistake to buy health insurance from an insurance broker in Panama and learn where to go to get the best health insurance at the best rates — this tip alone will save you at least $4,000 a year! And, you'll get our best insurance broker contacts for buying car or home insurance which is 40% less than other insurance agents. A little savings here and a little savings there really adds up fast.
There's More. . .
You'll learn how to start an online business (or two) in Panama or move your existing business offshore! US citizens will learn how you can reduce your taxes by about $120,000 per year, per person. Luckily, people from most other countries do not need to pay taxes on their worldwide income.
Before moving to Panama, the owner of Panama Relocation Tours, Jackie Lange, spent hundreds of hours researching how to "get things done" when she moved here. To make your life easier and save you hundreds of hours of research, everyone on the tour gets her ROLODEX and the Online Panama Relocation Guide** which includes:
Health insurance companies, plus a little trick to save an extra 30-50%
Private hospitals, Doctors, Dentists, and specialists
How to find a rental.. and things to watch out for
How to get BIG discounts on many purchases in Panama
CPAs with expat & Panamanian experience
Meet with an Attorney to learn about visa options and business structures
Shipping and moving companies (Tips for saving money, too)
What it takes to start a business in Panama.. and which businesses are off-limits.
Pet relocation (my step-by-step guide for a smooth transition)
Trustworthy real estate agents and property managers (they are hard to find)
How to get online orders (Amazon) and mail delivered to you
Selling on Amazon – Without touching products
The best way to take title to a property if you decide to buy
Titled versus Right of Possession (ROP) property in Panama
How to send and receive faxes without using a fax machine
Typical budgets in various areas (some are less than others)
How to get phone calls to/from your country in Panama… for free
Learn the #1 thing you need to do after you relocate to Panama
How to ship precious metals into Panama.. tax free!
Where to buy precious metals like gold and silver in Panama
Learn How to Fund Your Life Overseas… Little Ways to Make Big Money
Step-by-step CHECKLIST of things to do BEFORE you move to Panama
List of International Schools
List of Doctors
List of honest real estate agents
Best place to buy or rent a car, and much MUCH more.
NO ONE Knows More About Panama Than We Do!
We've been offering Panama Relocation Tours rolling seminars since 2010 and have helped thousands of people relocate to Panama! We're joined every day during the tour by a Panamanian who was born and raised in Panama. He will share his tips about what you need to do to be well respected by Panamanians and what you should not do too.
So, combined, we have 68 years of experience living and working in Panama!
In 6 days, you'll be able to learn if Panama is right for you and how you can improve your lifestyle with fewer expenses and less stress! We visit a variety of different areas, at different price points, so you can decide which area is best for you. Visit our tour itinerary page for a detailed description of what happens each day of the tour.
But there's a catch! Wear comfortable flat shoes and casual clothes for the tour. You will need to be able to walk a block on uneven surfaces and go up and down stairs unassisted. If you can't do these things, one of our Private Tours may be a better fit for you.
We only require a $500 deposit per person to reserve your spot on the tour. You can pay ONLINE HERE. The remainder is not due until one month before the tour. We will send you a payment link for your final payment.
Panama Relocation Tours Rolling Seminars will SAVE You Money by Helping You AVOID Costly Mistakes!
During the rolling seminar, you will learn what life is like when you retire in Panama. You'll get some of the best-kept secrets we've discovered since moving to Panama. Sign up early because our tours sell out many months in advance. After the tour, you will be invited to our private online Alumni group where you will get updates about Panama, information about great deals on rentals, house-sitting opportunities, and much more. Plus, after the tour, we will continue to be readily available to answer your questions about relocating to Panama. We're here for you before, during, and after you relocate to Panama.
Tour Price   |   Tour Itinerary   |   Tour Dates   |   Book a Tour
We're Ready to Show You How to Retire in Panama!
Our 6-day, 7-night, all-inclusive tour costs USD $2,500 for 1 person (private room) or $4,000 for 2 people (private room). Will there be more than 2 people in your party? See our Help Center for booking instructions. We require a $500 deposit per person to reserve your spot. If you need to cancel, let us know at least one month before the tour for a full refund.
All payments will be processed by Next Door LLC DBA Panama Relocation Tours using encrypted and secure Authorize.net. Click on the BOOK TOUR button to reserve your spot today.
This is not a "tourist" tour. Since 2010, the only kind of tour that Panama Relocation Tours has ever done are our rolling seminar tours to show you various areas in Panama where you might want to live AND to teach you all the things you need to know to make a smooth transition to living in Panama. You'll get to see Panama up close and personal during the rolling seminar.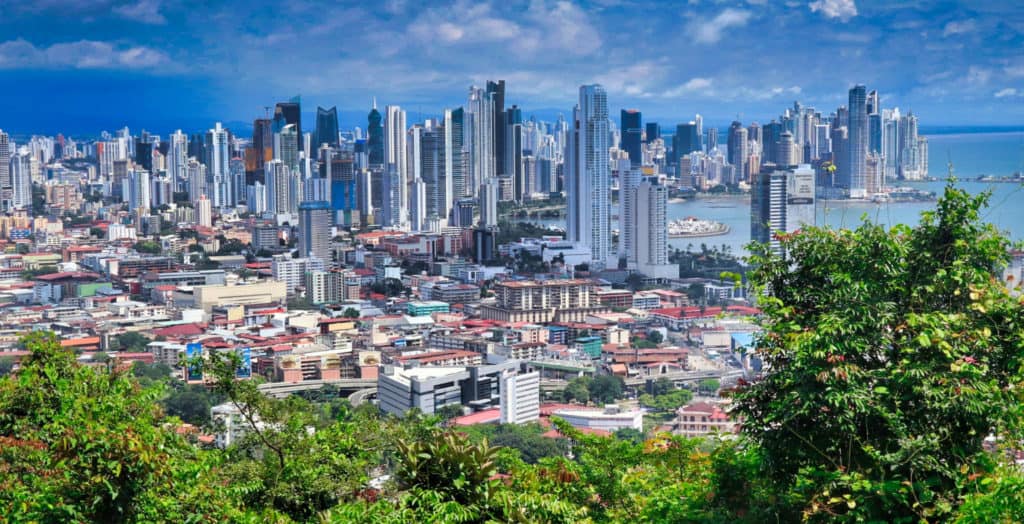 What Previous Tour Clients Have Said
"Our group was awesome!!… All your questions are answered and you will see this amazing country on a comfortable tour bus! Amazing overnight stays along the tour route. We visited grocery stores, pharmacies and quaint shops and saw pricing differences from US prices. Wonderful talks from Lawyer and a Real Estate Representatives. We are beyond pleased with our experience with Panama Relocation Tours and hope to call Panama home soon!"
Sandi V.
Sherwood Park, Canada
"We were on the January 2020 Panama Relocation tour and found it to be a very valuable experience… We learned so much about Panama and the variety of tropical locations. It was very difficult to return to Canada to -36 degree weather! In addition to the vast amount of information we received, the tour was arranged so well … the food and accommodations were excellent and we didn't need to be concerned about a thing. We also met some great people on the tour and hope we will see many of them in Boquete in the future!"
"My husband and I just completed the January 31 tour and had a wonderful time… They took care of everything during the tour from picking us up at the airport to showing us the beautiful Panama countryside, culture and people. It is the best way to see Panama and learn about the different areas as well as opportunities for relocation. The information provided was thorough and extremely helpful. It was a perfect mix of education, sightseeing and fun. The accommodations and food options were great. We enjoyed meeting all the people on the tour. If you are considering visiting Panama and want to check out rental and real estate market but don't want a high-pressured sales pitch, we highly recommend going on one of Jackie's Panama Relocation Tours!"
Harold S.
Boquete, Panama
"We took Jackie's tour in September 2019. I am so glad we did. We met many wonderful people and made lots of new friends. This tour is a must if you are thinking of moving to Panama."
"If you are thinking of moving to Panama, I can highly recommend taking this tour… Top notch care and attention given to each and everyone, with every question answered along the way. Completely covered each aspect of the relocation process while offering many tricks and fixes for situations that might come about during that said process."
SOME OF THE THINGS WE DO ON THE ROLLING SEMINAR INCLUDE:
Meet with an attorney to discuss the various visa requirements that lead to residency, and their many benefits (discounts for retirees)

Visit the following areas: Coronado or Gorgona, Chitre, Las Tablas, Santiago, Las Lajas, David, Boquete, and Volcan

Discuss housing & rental options and the pros and cons of living in each area

See affordable rental properties – some as low as $350 for a fully furnished 1 bedroom

See grocery stores, pharmacy and other shopping opportunities

Meet with Expats who live in Panama

Visit the with expats in each town we visit

Visit a farmer's market and department store
Tour Price   |   Tour Itinerary   |   Tour Dates   |   Book a Tour
The 6-day, 7-night tour begins and ends in Panama City. This is an ALL-INCLUSIVE* tour. The fee of USD $2,500 for 1 person (private room) or $4,000 for 2 people (private room), includes all transportation in Panama, all meals, all hotels, PLUS the opportunity to learn what life would "really" be like living in Panama – in the city, on the beach, or in the mountains. You can sit back, relax, and enjoy the scenery without the hassles of renting a car and driving in a foreign country.
You'll also get our tips and tricks on how to reduce costs while in Panama. These are things we've learned first-hand since moving to Panama. You'll have access to all the connections we've made: reliable immigration attorneys, honest real estate agents, English speaking doctors, low-cost rental and property listings, and a private Facebook group to swap information with the friends you'll make on the tour–this alone is worth the price of the trip!
A $500 deposit per person is required at the time you book. The remainder is due one month before the tour.
All-Inclusive Policy | Refund and Date Change Policy | Luggage Restrictions
NOTE:  You will need to be able to walk one block on an un-level surface and go up and down stairs to take the tour and to function well in Panama.  If you have serious medical conditions, please discuss this with us in advance so we can help you determine if the tour, and Panama, will work for you.

NOT EMPLOYEES: Tour guides and bus drivers are all independent contractors paid per tour. They are not employees.
Special Requirements: All tour guests must sign a Tour Release/Non-compete agreement. Wear comfortable flat shoes and casual clothes for the tour. You will need to be able to walk a block on uneven surfaces and go up and down stairs unassisted. A cane or crutch(es) is allowed. Walkers are not. If you do not meet these requirements, then a Private Tour may be a better fit for you.
** Online guide access will be granted for no additional charge shortly after your tour. To get access before your tour, you must purchase the guide separately. If you do that, let us know. We will reduce the price of your tour by $200.