During a 6-day 7-night all-inclusive Panama Relocation Tours, we go into great details (including special tips) about shipping household goods, cars, and pets to Panama. Since 2010, we've been offering Panama Relocation Tours and have completed more than 160 relocation tours as of January 2022. We've helped 1000s of people relocate to Panama the easy way. Here's an overview of the important information you need to know if you are considering shipping your car to Panama.
SHIPPING A CAR OR MOTORCYCLE TO PANAMA
It will cost about $3500 to $5,000 to ship your car to Panama. If there is a lien (loan) on the car, you'll need to either pay it off or get permission from the lender to take the car out of the country.

There will also be a tax to bring your car into Panama. The car broker can give you more details but you can estimate a 17% tax based on what car value is. Customs in Panama will determine the car value.

Once the car arrives in Panama, you have 30 days to get it re-registered as a Panama car which will cost about $1500. Failure to get your car re-registered will result in it getting impounded. The price difference depends on how far you are from a port.
North American cars have emission controls and catalytic convertors but Panama cars do not. Therefore, you may have a hard time finding a good mechanic to work on your North American car and it could take months to get any parts that are needed.

The gasoline in Panama is 91 or 95 octane and does not have ethanol so some cars do not do well with Panama gasoline. Diesel gas is also available and more affordable than regular gasoline in Panama.
A good example….Friends thought he was getting a heck of a deal by buying a 2008 car with low miles for $4000. The car had been brought in from Georgia. Because the gasoline in Panama is different, the lowest octane is 91 and there is no ethanol in the gas, he started having problems with the car. One time they drove from Chitre to Boquete but the car overheated many times along the way until it finally just stopped. I helped them get a wrecker to take it to a local mechanic. The mechanic determined that he needed certain parts which took 3 months to get to Panama. Three months (with no car) and $3500 in repairs later, the car still has problems in Panama.
IS IT CHEAPER?
The moral of the story, it's not always cheaper to bring your car to Panama. If you do bring your car into Panama, it would be a good idea to bring the parts most frequently needed with you.
I know you're going to ask… NO, you cannot fill your car up with your household goods when you ship it to Panama. The car must be completely empty and drain the oil and gas too.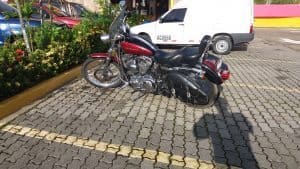 Good cars are readily available in Panama. You can buy new cars or go to a used car dealer. I used a car broker to help find the first car I purchased in Panama. You just tell the car broker how much you want to spend and what you are looking for then they go find the car for you. The car broker has the car inspected and handles all the paperwork to transfer ownership to you. My first car was a Kia Sportage with 25,000 miles which I purchased for $9,000. My second car was a Nissan X-Trail with 25,000 miles which I purchased for $7500. A few months ago I purchased a 2018 Hyundai Santa Fe with only 5,000km for under $20,000 (it still has the factory warranty).
A tour client shipping his motorcycle to Panama READ THE DETAILS HERE