In Panama, some things are done in a different way than you are familiar with. A good example is real estate sales and rental listings.  In Panama, it's common to see the same house listed at several different prices with different agents. Sometimes the "spread" can be as much as $100,000 difference for the same house!
Just this week, October 2020, a couple saw the same rental for $1800, $1500, and $1300.  What's the right price? The only way to know is to talk to the owner.
A few months ago, after a Panama Relocation Tour, a lady looking at a house for sale in Dolega, about halfway between David and Boquete.  The real estate agent quoted the sales price at $100,000 more than the seller was asking.  How did she find out?  She drove by the house the next day and saw the owner outside. He told her what the right sales price was.
In North America, most houses for sale are listed as an exclusive listing. This means that one real estate office has the exclusive right to market the property. If that same office finds a buyer, they will typically take about a 6% commission. If an agent from a different office produces a qualified buyer, the "listing" agent will usually agree to split the 6% commission. In North America, a real estate agent has a fiduciary responsibility to the seller/buyer so all the dealings for the transaction are revealed: "on top of the table."
There are some exclusive listings in Panama too. But most listings are NOT exclusive. Instead, the seller has agreed to pay a commission to whoever produces a qualified buyer. This is why you will see the same house listed with several different offices and at different prices. A typical commission in Panama is 5-6% of the sales price.
But sometimes, the seller has told the agent(s) that they need to NET a certain amount at closing and anything the agent can sell it for over that amount will be their profit. This is called a net listing. Net listings are illegal in most of North America, but it is business as usual in Panama. Here's an example:
Joe and Mary need to walk away with $150,000 on the sale of their property. Real estate agent Sue advertises it for $220,000 – with room for negotiations, she's hoping it will sell for $200,000 so she can walk away with a $50,000 commission versus the $12,000 commission she would have earned at 6%.
Maybe $200,000 is the right price for the house. But perhaps $150,000 is the right price. It's hard to know in Panama because there is not a reliable MLS system to show comps of recent sales in the area. We do have an MLS system but most agents don't use it and that's why it's not reliable.
HOW WIDESPREAD IS THE PROBLEM?
Not all real estate agents, salespeople, and property managers do net listings.  But it does seem to be common practice with many real estate professionals.
I posted information on Facebook about Net Listings and the board lit up with people in Panama talking about their 'not so good' net listing experiences. Here are some of the comments
Phil said, " It's actually worse than people think. Here they practice (net listing). Highly illegal in Canada The owner wants $50,000, the (realtor) lol asks $85,000 and it sells for $75,000, the realtor pockets the $25,000 extra plus 5 percent of the $50,000 lol. And it's both, Gringo's and locals that are practicing this, so be careful about who you are working with"
Barbara said, "Found a property to buy, with a $100.000 difference at different realtors…"
Lenore commented, " One house we viewed, the neighbor told me ahead of time what the owners wanted…the realtor jacked it up another $35,000 when he showed it to us."
Enny ran into a similar problem. She wrote, "This is very accurate. I wanted to purchase a home in las cumbres. The real estate agent told me it was $240k I send him an offer. I drove by the house one day and saw a guy closing the door so I asked him if the house was sold, he answered "no" he was the owner's friend and if I was interested. I told him I was. He told me that the house was on sale for $200k. So, I asked him the owner's name and he only gave me the first name. With that, I started to ask around until I was able to find the owner. Contacted him and to my surprise…he was selling the house for $160k. So, the agent wanted almost double and his friend $40k more. I offered the owner $140k and he accepted on the spot. Today I am a happy homeowner. Stay away from those sharks and try to find the owners."
Frank said, "The same house was advertised for three different rents with three different agents and one told me I had to pay an extra $250 a month for HOA fees and utilities but the other agents told me they were included!"
It's like the wild wild west! It's a crazy situation which makes it hard for you to know what the right price is to pay or who to trust. Keep reading for a solution….
IT'S RENTALS TOO
Last week, our tour group saw a 3-bedroom 3 bath furnished rental advertised for $1300. Just as we were leaving, we ran into a previous tour client who told us she had been to that house three times with three different real estate agents. It was advertised with one agent for $1100. Another agent for $1300. And a third agent for $1400. Because it was all different prices, the tour clients thought it was a different house.
Most likely the owner of the house said they want to get $1000 a month rent. And instead of the agents taking a typical property management commission of 5-7%, they are hoping to make $100 – $400 per month profit PLUS the management fee.
The same thing happened when my son moved to Panama. He looked at a 2-bedroom house that was advertised for $650. Later that day he saw an ad for a 2-bedroom house for $850 advertised with a local real estate office in Boquete. Because it was different prices, he thought it was a different house. To his surprise, it was the SAME house. Guess who was hoping to put an extra $200+ a month in their pocket.?!!
IT GETS EVEN WORSE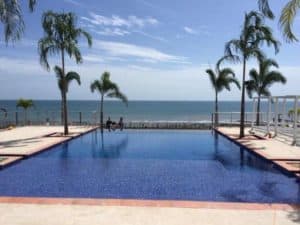 It seems everyone is trying to get in on the action (at your expense).
A hotel owner in Boquete is now offering to help people find a rental if they pay him 50% of their first month's rent. He's also getting 50% of the rent from the owner of the house. So, for a $1000 a month house, the new tenant (YOU) must pay the owner $1000 plus pay the hotel owner $500 for his help in finding the property. It cost the tenant $500 more to use him to help find a rental.
Throughout Panama, people are selling or renting houses that are not legally working in Panama. If you're working with a foreigner, ask to see their work permit. If they don't have one, they are working illegally and the government will not get involved if you run in to a problem.  What could go wrong?
Last month, I was contacted by someone who rented a house in Panama and asked for my help. They paid the first and last month's rent plus a security deposit (unusual for Panama) to the property manager. By the way, the property manager is working illegally (no work permit) with a local Boquete real estate office. One day, the owner of the house knocked on the door and asked who they were and what were they doing in her house. They had a copy of the lease they signed and a receipt for the payments made. Apparently, the property manager, kept the ALL deposit and rent money and never told the owner the house was rented. With a little help from me, they were finally able to get most of their money back but it sure did leave a bad taste in the mouth about dealing with real estate people in Panama. It's not the first time I've heard of something like this happening in Panama.
THE SOLUTION
The solution to avoiding these NET listing situations, where you overpay, is to deal with the owner directly when possible or to at least ask to speak to the owner to get the straight scoop on what the property is for sale or for rent for.
Instead of walking into a real estate office or contacting a real estate salesperson to help you find a house to buy or to rent, take matters into your own hands. Many properties are not listed with a real estate office. Look on Facebook for property for sale or rent in the town you are interested in. Search craigslist for Panama. And check www.encuentra24.com.
Honestly, the best way to find a rental is word of mouth – you just need to start asking people if they know of a rental like you are looking for. You'll be surprised how many leads you can get in a short time.
If you rent a car and drive around, you'll find for rent and for sale signs for properties that are not listed on any website or real estate office anywhere.
Remember, don't buy or rent anything without seeing it first. And, it's better to RENT for at least 12 months before you even think about buying. Twelve months in Panama will give you time to make sure you love living in Panama and that you have picked the right town and microclimate.
During a Panama Relocation Tour, we will introduce you to trusted real estate professionals who can help you find a rental or home to buy – all while avoiding a net listing situation.