Moving to Panama is an amazing adventure. Depending on where you live, and how you live, you may be able to significantly reduce your cost of living while also increase the quality of your lifestyle! One of the first things you'll need to do is to determine the best place to live for you. Everyone has different wants and needs so there is no one right answer to the question of where is the best place to live in Panama. There are four main criteria that you need to take into consideration when looking for the best place to live in Panama include:
1. Weather
2. Your Budget
3. Amenities
4. Social activities
WEATHER
In the coastal areas in Panama, it is about 90 degrees (32 celsius) during the daytime, all year. Temperatures drop about 10 degrees at night. Panama's weather is consistent all year because it is only 9 degrees from the equator. If you like warm to hot weather, the coastal areas would be ideal for you. For every 1000 feet increase in elevation, the temperatures drop about 4 degrees. So, if you do the math, you can pick the ideal location based on the weather criteria. I prefer living in a place where I don't need an air conditioner. My house is at 4600 feet and the daytime temperatures are in the mid-70s (23 celsius) every day. If the mid-70s is too cool for you, but the 90s is too hot, then you need to find a town at an elevation that is about halfway between the two.
If you hate humidity then you'll want to look in the Azuero Peninsula or elevations above 3500 feet. Any other place in Panama will have high humidity levels.
YOUR BUDGET
Once you determine what kind of weather you want to experience every day, the next major factor is your budget. Some areas in Panama are much more expensive than others. And some areas are super affordable. You need to determine how much money you will have to work with every month. See this Cost of Living article to help you determine what a typical budget might be. Even if you can afford to spend $1500 on rent you should start looking at rentals in the $900 range if they are available in the area you like best. There is no need to push your rental budget to the limit. If you know that your budget is $2000 a month, that will eliminate living in places like Panama City or Coronado but there are plenty of other places where you can have the ideal weather and stay within your budget.
If you are moving to Panama on a tight budget you can significantly reduce your cost of living if you move about 15-20 minutes outside of the popular expat communities. Today on Craigslist Panama I saw a cute furnished two bedroom two bath for rent for $350 in Dolega. Dolega is about 15 minutes to David or Boquete in Chiriqui province. The same rental in Boquete would be at least $700 a month.
Most rentals in the coastal areas do not include electricity. If you run your air conditioner a lot, you will need to add $150 to $250 to your monthly budget for your electric bill. If you live in the highlands electricity is usually included in your rent but if it's not you can count on an electric bill that is less than $25 a month.
AMENITIES
Before you move to Panama, it's a good idea to make a list of the things that you "must-have" to be comfortable in your new life in Panama. For most that is having hospitals, doctors, grocery stores, restaurants, and other amenities within a 15-minute drive of their house. If you like to shop, you'll probably want to have a mall close by too. Some areas have more amenities close by than others. If you live on the western side of the Azuero, Santa Fe, Playa Vaneo, Boca Chica, or Las Lajas you will need to drive at more than an hour to the closest hospital or decent grocery store. Some people are ok with driving an hour to go grocery shopping, but others are not. So you'll need to do some research about what amenities are close to the area where you are considering living.
Some areas in Panama have plenty of organic produce available but others don't have any organic produce. Some areas in Panama have a large selection of products from North America but others don't have any. If having a variety of shopping choices are important to you, then you will need to move to a town that has what you need or you'll quickly get frustrated.
Some areas have fiber options with 100+mbps internet speed, some areas only have satellite internet with 5-10mbps internet. If higher speed internet is important to you, then you will certainly need to investigate that before you move to an area in Panama.
The easiest and fastest way to have a smooth transition to a happy life in Panama is to get involved in social activities so you can meet other expats and Panamanians. Getting involved in social activities like attending live music events, art classes, cooking classes, hiking groups, beach volleyball, pickleball, theater, golf, tennis, etc. are available in some areas but do not exist in other areas. Some areas in Panama have a lot of volunteer opportunities like spay and neuter clinics, handicap foundations, delivering food to needy families, tutoring students, etc. If you're a social butterfly, you'll definitely want to relocate to an area in Panama that has a lot of social activities.
Some areas in Panama have a high concentration of expats but some areas don't have many expats at all. There tends to be more social activities in areas with more expats. Also, if the town has a high concentration of expats English will be more widely spoken If you move to an area that has few expats, like Santiago, you'll definitely need to learn a lot more Spanish fast.
WE CAN HELP YOU DO RESEARCH!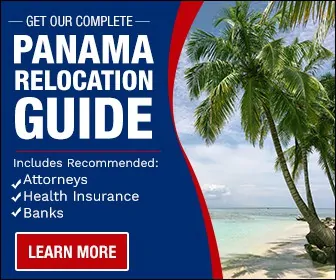 You really need to take all four of these things into consideration when you're looking for the best place for YOU to live in Panama. There's a perfect place for you to live in Panama but sometimes there are trade-offs too.
Our Online Panama Relocation Guide will help you do research about the best places to live in Panama. You'll learn about the weather, the costs of living, amenities, and social activities to help you determine the best place for you to live in Panama. The Online Panama Relocation Guide will help you narrow down the place that you want to visit when you come to check out Panama. The Online Panama Relocation Guide has the same information that you'd get on a Panama Relocation Tour including information about where to buy health insurance for 40% less, reliable immigration lawyers, honest real estate agents/property managers, how to get your pets into Panama, important questions to ask before renting and much much more.