Public buses are readily available throughout Panama but I've only taken the bus to Panama City one time because my daughter's flight was cancelled and she needed to get to Panama City to catch an international flight.  My cost, with a Pensionado discount, was $10.60 to take the bus from David to Panama City.  A few times, I've also taken the community buses to Boquete for $1.  It's only $1.75 to take the bus from Boquete to David, which is the second largest city in Panama.
Because I have limited knowledge about taking the buses in Panama, I asked my friend Elaine Hayes to write about here experiences.  Elaine loves to take the bus.  Here's her article about Taking a Bus in Panama.
Taking the bus all around Panama is a lot easier that you think. And you will be surprised to find that once you get the hang of it, it just might be your preferred method for travel!
Panama has one of the easiest and efficient bus systems in the America's. All it takes it a few dollars, and a little bit of bravery in the beginning, and it will open up a whole new way to travel independently.
Let's first begin our journey at Albrook Bus Station in Panama City.  Albrook is a huge area that has its own airport, the main bus station for all of Panama, and the largest mall in all of the Americas. From here, it can get you started to go anywhere in the country.
The first thing you will have to do is to get a bus card. The card that you use here is called "Rapid Pass" and it is very easy to get. There is a booth that sells them, but most people get theirs at the many kiosks that you will find around the station.
The card itself cost $2.00. Once you get the card, in the same machine, you can put money on it. Normally $5.00 will last you months. There is a monitor on every kiosk that will give you instructions on what to do. And this card will last forever. Once you run out of money, all you have to do is to refill the card. $2.00 well spent!
Now the next thing you need to decide is where you want to go! Now yes ladies, you want to go across the street to the mall. But for the argument of this article alone, let's pretend you actually want to leave the mall and go somewhere else! OK, you have your Rapid Pass in your hands. Now if you want to go anywhere in the city, you would go to the sidewalk facing the mall. This is where you catch the Metro Bus. There are employees with orange vest on throughout the Metro platforms that will gladly give you directions on where you want to go. But keep in mind, that they speak Spanish. This is when you get your "Google Translate" ready from your cell phone, or if you have planned enough ahead, you would have memorized "Where is the bus to go to (fill in the blank)?"
Let's just say for instance you want to go to Tocumen International Airport. You would go to Platform E. There are signs right above the stop to let you know that you are in the correct area. It is also right across from the "Tiger" section of the mall and the closest store sign you will see is "Costco". Now you just wait for the bus! There are two different buses that go to the Airport, but they both get you there. There is a bus that will say "Tocumen-Corredor Sur". This bus will go the highway when it can and it will be quicker than a bus that does not say "Corredor Sur". But if you are wanting to see the city and time is not a factor, then this is the bus you may want to take. It will cost you 25 cents, while the highway bus will cost you $1.25.
If you are riding a Metro Bus and want to make a stop, there are red buttons along the aisle way. Right before you want to get off, press the red button. That will alert the bus driver to stop at the next bus stop. Using your Google Translate, or by using your Spanish, you can always ask for help from the people around you. Panamanians are the most helpful people you will ever find!
Now that you have mastered accessing the proper but to go in and about Panama City, let's take a ride throughout the country! For the sake of this article, let's say you are back at the Albrook bus terminal right after you have gotten your Rapid Pass card. Now instead of going towards the Metro buses, you will want to go into the station. And guess what? It is a mall also! It is truly a woman's dream, so many places to shop and so little time!
But let's focus. As you walk through the mall, on one side you will see many glass booths. Directly above each booth there will be a city's name above it. This is where you will go to buy your bus ticket. Unless you are taking an express bus to an area far away, you will not see any times that the buses arrive. That is because there is a constant flow of buses that go all over Panama.

I am going to pause at this point of the article to give you some much needed advice. Once you get your ticket (unless you are taking a specific bus as mentioned above), then things happen very quickly. So now is the time I tell you about the bus station baños, or bathrooms. There are several along the terminal, and there are signs that point the way. There is a person there in a glass booth to take your quarter. Yes, it cost a quarter to use the facilities in the bus terminal! But it is a quarter well spent when you get on the bus to go to your destination. Unless you are riding one of the newer, larger double decker buses there is no bathroom on the bus. So as they say in Texas: "Smoke em if you got em" which translate to: "Go when you can!"

Let's just say that from Panama City you want to go to the beach town of Coronado. Now here is where you need a little knowledge of the certain towns that are in Panama. And of course, you can always ask a worker at the bus station. There is a large information booth that is in the center of the terminal. Just be aware they may not speak English, so have the trusted Google or Spanish/English Dictionary handy! OK, now you have learned that to get to Coronado, you need to go to the "San Carlos" booth. Walk up, tell them what town you are going to (it matters how much you pay), and they will hand you a ticket! From there you stay to your right until you see the turntables that lead out to where all the buses are parked.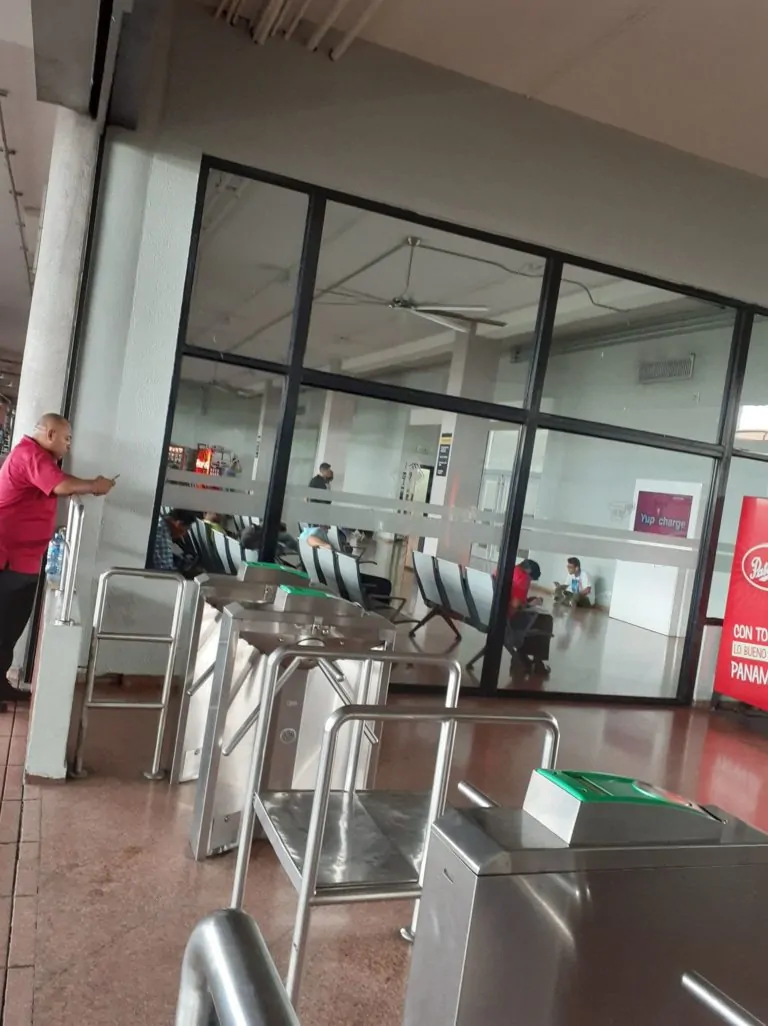 Here is where you use your Rapid Pass card! It will take 10 cents off of your card when you scan it at the turntable. From there a man will show you which way to go, and then you look at the names of the towns that are on the top of the windshields of the buses. But you may not even need to do that. Normally a man is there directing you to your bus. It seems that the communication between the employees that sell you the ticket will get to the employees that direct you to the bus in an excellent and timely manner.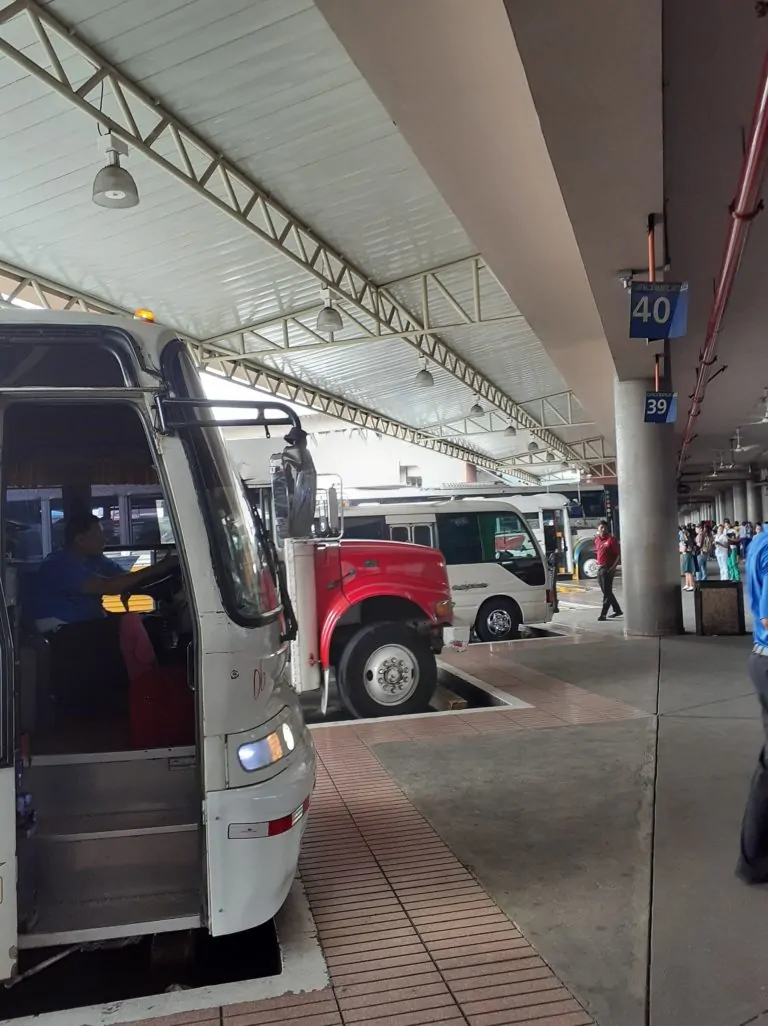 Now keep in mind, it may be a very large bus or a smaller white bus. But they will all have comfortable seats and all will have air conditioning. When you get on the bus you tell them again what town you want to stop at. It normally will be no more than 5 or 10 minutes before the bus starts heading out of the bus terminal!
And most every time, when you get close to your town, the worker on the bus will look at you and tell you your stop is next. If not, you can remind them. It never hurts to be safe!
Now is also a good time to give you a short version of the layout of the bus system in Panama. There are 4 main bus terminals. There is the largest one, which is Albrook in Panama City. The next large station heading west will be in the town Santiago. Still heading west the next large bus terminal you will encounter will be in the town of David and it is in the providence of Chiriqui. It is Panama's second largest city. It is this bus stop that will be the hub of many towns that are popular with expats. From the David bus terminal you can travel to Boquete, Volcan, Cerra Punta, and to the beach towns of Las Lahas and Las Olas.  The last and most western Panama bus station is in the town of Pasa Canoas, also known as "Frontera". It is the on the border of Panama and Costa Rica.
Depending on which town you would like to travel to, you may need to stop at one of these main bus stations to move to another bus that will take you to the surrounding areas.
You can google "bus schedule Panama" and it will take you to a website: http://horariodebuses.com/EN/pa/. Just enter your starting destination and your ending destination and it will let you know if you need to get off at a certain terminal and get on a second bus to your final destination.
Now, let's return to Albrook! It is pretty much the same steps you took except for the way you pay. Whatever town you are in you will get on a bus to the main hub terminal. Ask around and the people that live there will direct you to where you get on the bus to go to Frontera, David or Santiago. Before you get to the terminal, the bus worker will go around and collect your bus fare.
Now if you are heading toward Albrook and you are anywhere on the Pan American Highway, the process is much easier. If you are at a bus stop and the bus pulling up has the word "Panama" on the top of the windshield, it will automatically go to the Albrook bus terminal! You don't even have to ask! All buses coming from the interior of the country that are going into Panama City will always end up at the Albrook bus terminal.
You are a professional bus taker, and knowing with just a little bit of knowledge and a smidge of bravery, you can go anywhere you want to go in Panama without the use of a car!
Tidbits of Information that is helpful to know:
– If you are taking an overnight express bus from Paso Canoas or David to Panama City, you will more than likely be riding a double decker bus. On these trips the employee at the booth will issue you a ticket with your seat numbers on it. Please note that the seats downstairs are quieter and you will experience a smoother trip. Also, on the upper level of the bus they could show a movie (in Spanish) or have music video's playing on the TV screen in the front of the bus. So unless you want to be blasted by noise, politely ask to have your seats downstairs. Also be aware that these buses that make the midnight run are very cold inside. So bring a coat, a blanket, and a wool hat and mittens! You will be glad you did! This express bus does make one stop in Santiago. It will stop at a "fonda" (a small outdoor restaurant) where there will be cafeteria style food, drinks and snacks. They normally give you around 30 minutes. Enough time to get something to eat and to stretch your legs.
– If you are traveling during the day it is quite common at a bus stop for someone to get on the bus and sell water and snacks. Sometimes some bottled water and a bag of chips is just the thing you need to make your trip more enjoyable! Also, rarely but on occasion, a person will get on and ask for donations. They will give a small speech (in Spanish) about a family member needing an operation or something along that line. It is your choice whether you give them any money or not. It is strictly on a voluntary basis.
Happy Trails until we meet again!